Forklift

Hire

At KMA Forklifts, we understand that saving money is a big priority for our customers. This is why we have developed our hire packages to offer fantastic value for money, whatever your budget or requirements. When you are looking for forklift area hire in Ipswich, Bury St Edmunds or Felixstowe at a highly competitive rate, look no further than KMA Forklifts.
Prices start from £45.00 per week With long and short term packages available
We have a comprehensive range of forklifts available to hire, including products from some of the leading manufacturers. The machines we have range from 1 ton to 6 ton capacity in Diesel, electric or Gas power. We can also supply container spec machines up to 5.5ton capacity. If you are unsure which machine would be best for your specific requirements or project, simply contact our team today and we will be happy to advise you as to the right solution for your needs.
Convenient Fork Truck Hire Packages
We can offer day hire with a driver where required, and offer a range of fork truck hire options in Bury St Edmunds and surrounding areas. Rest assured that we have hired out our machinery to customers working in a range of industries, who have required a forklift for a variety of different projects. This means that you can feel confident that we will be able to find the right materials handling solution for you and your business.
Hire throughout Ipswich, Bury St Edmunds & Felixstowe
We can provide forklift hire throughout Ipswich, Bury St Edmunds, Felixstowe and the wider region, so why go anywhere else when you are looking to hire a fork truck locally? Our great reputation throughout the local area is a testament to the quality of our services - both in fork lift sales and forklift rental. Why not call us today on 01473 657875 to learn more about the hire packages we can offer, or to discuss fork truck maintenance?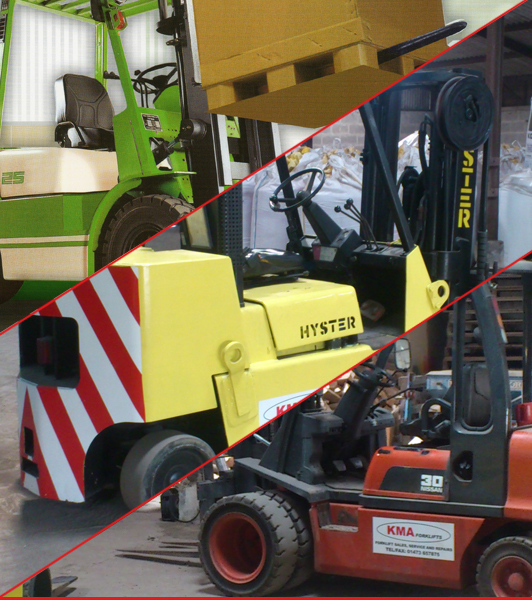 At KMA forklifts we have a vast range of forklifts for hire so no matter what you are looking for we can help. Are you looking for All Terrain Forklift Hire? If so we have machines that will assist you in whatever task you need to complete. If you are on a tight budget and perhaps looking for Short Term Forklift Hire for a single event then again we can assist with your Budget Forklift Hire and can even provide Forklift and Driver Hire as a combined package so that all the worry of moving goods and equipment is taken out of your hands and you can be safe in the knowledge that we are providing a safe and reliable service at competitive prices.
Our Forklift Hire Prices and packages are extremely reasonable and ensure you receive a first class service. We can provide Electric Forklift Hire, Gas Forklift Hire and even provide Forklift Attachment Hire and Fork Hoist Hire so whatever the need KMA are here to assist.
We can deal with all your Contract Hire requirements and our hire services extend to Ipswich, Bury St Edmunds, Felixstowe and the wider region so whether you need a forklift for a single event, a long term contract on a construction site, or a replacement forklift for the shop floor give us a call. Our forklifts are available to hire 24/7 and we can discuss a rate that will suit you, talking you through how the hire and return process works and allowing you to reap the benefits and savings of hire over buying.
Forklifts come in many different shapes and sizes. For instance, All Terrain Forklift hire is a good solution for those who need to operate these machines in rougher and tougher conditions. It is much easier to use any vehicle on a smooth surface or concrete, but when you need to cross hills, gravel paths and rough roads you will need an all terrain forklift.
Those who are interested in getting the most from their forklift should definitely try our forklift attachment hire service because these attachments make transporting materials very easy. Forklift attachments can come in the form of boom attachments, clamps, double block handlers etc. Their basic function is to make this process easier.
Only qualified drivers can operate fork lift trucks. This is the reason why you might need a Forklift & Driver Hire service. We are happy to provide this service so please get in touch to discuss your requirements.
If you are in a process of selecting forklift trucks for hire, you need to choose a reliable company that has already helped hundreds of clients such as KMA Forklifts. We provide many different hire packages that are sure to suit your needs. We also have a huge range of different forklift trucks and our hire and return policy is very simple. All our forklifts are manufactured by the leading brands in the industry and we have machines that can handle 6-ton loads.
For more information about our forklift hire services, please
Hire From Us Today
01473 657875
Contact

Us